New CD out now on the
Tesco Functional Label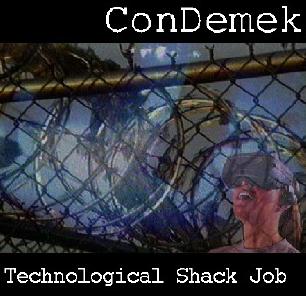 Stations Playing TSJ | Buy It | Distributors | Liner Notes | Reviews | Christian Phone Sex

TECHNOLOGICAL SHACK JOB, the new release by Con Demek is a tour-de- force of experimental mayhem within a tight conceptual framework. Damian Catera, Steve Lombardi and Roxanne Benedetto weave an alluring sonic landscape which veers simultaneously towards rock, experimental power electronics as well as industrial and improvisational idioms. The strength of this release is its inability to be easily pinned down within any of the existing categories of "alternative" music.
SHACKJOB, is also a concept album which explores the socio-political/psychological dimensions of humanities relationship with technology including its inter-mingling with reactionary belief systems. This is dramatically demonstrated in the six part "Christian Phonesex" series which is based on secretly recorded prank phone calls to christian- right "counseling" lines. Other pieces on SHACKJOB such as "Full" and "Child" explore the addictive nature of technological consumption. "Strategies Against Communication" explores the reality- distorting effects of technological development via vocal experimentation and machine improvisation. This piece features a contribution from Sonic Youth guitarist Lee Ranaldo.
TECHNOLOGICAL SHACKJOB was recorded at the Harsh House Studios in New York and New Jersey and was produced and engineered by guitarist/vocalist Damian Catera.